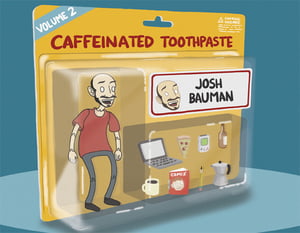 €

15.00
(2012) Caffeinated Toothpaste: Volume 2 Is the second volume of diary strips from Josh Bauman's online diary comic.
Order now and get an original sketch by the cartoonist right on the title page of the book (unless you aren't into that sort of thing and just want your boring old title page to stay perfect and boring).
Here's what you get:
126 Pages
Hardcover
Over 220 strips
Full color
A selection of strips from January 2011 to March 2012
Original sketch by the cartoonist (if you want it)
The price in USD is approximately $20. Free shipping worldwide!