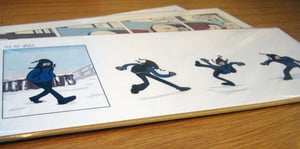 €

5.00
Outfit your coffee nook, desk, bathroom, or bedside table with a handsome comic of your choice.
These strips are printed on fine acid-free 350-gram matt paper. Each strip is packed in a protective sleeve with strong backing board.
Most 4-panel strips measure 28 x 11 cm (11 x 4.3 in). Different pricing may apply to certain specially-sized prints.
After placing your order you will be contacted to specify which strip(s) you would like. Can't remember the date of a favorite strip? I'll gladly find a strip for you based on the vaguest of recollections.
If you buy four, you get one extra strip for free!
The price in USD is approximately $7. Shipping outside of Germany is approximately $5